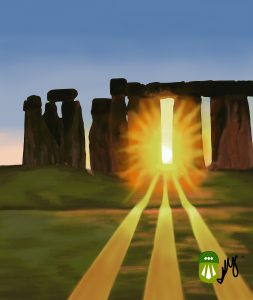 Come on a journey to explore the mysteries of the Druids, the lore keepers and magicians of the ancient Celts.
The Druid Wisdom Oracle enables gentle yet deep insights for reflection and divination.
Decks include 33 cards, personally drawn by Sandra, who has studied Druidry for over thirty years. The cards have a smooth-matte finish and gilt edging, and are accompanied by a 44 page booklet, and strong custom designed box to help your treasured deck safe.
This is a strictly limited edition of only 500 decks.
For more information and images, please visit Druid Wisdom Oracle Cards on Facebook or @druidwisdomoracle on Instagram.
The guidebook includes thoughtfully researched information about the imagery of each card, examples of spreads as well as some extra divinatory meanings. 
www.etsy.com/au/listing/687481261/druid-wisdom-oracle
About the Artist / Oracle Deck Creator
Sandra is a Druid Grade member of the Order of Bards, Ovates and Druids, and has studied Druidry since the 1980s.